Hylas und die Nymphen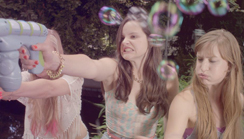 Fiction, 12 min.
Title E:
Hylas And The Nymphs
Title F:
Hylas et les nymphes
by Lisa Brühlmann
Switzerland, March 2013
Im Seerosenteich des Stadtparks schwimmt die Leiche eines jungen Mannes. Drei tatverdächtige Frauen sind schnell gefunden und werden verhört: Die Nymphen unserer Generation. Sie sind vulgär, verlogen und unschuldig. Und sie geniessen es: Lolita goes Anarchy.

Directed by: Lisa Brühlmann
Written by: Lisa Brühlmann

World Premiere: March 2013
Original Version: German (french/english subtitles), colour, DCP, 12 min.

Production: Zürcher Hochschule der Künste ZHdK

Cinematography: Benjamin Dobó
Editing: Yasmin Joerg
Location Sound Mix: Patrick Storck
Sound Editing: Gregg Skerman, Hans Kaufmann