Grace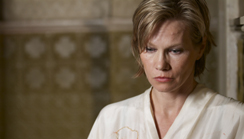 Fiction, 21 min.
Coproduction
by Jo Kelly
Switzerland / Belgium / United States, January 2012
The film captures the experience of being mentally and physically challenged through the eyes of Jerome, who makes a proposal to Via, a worn-out prostitute, on his 40th birthday. A story about how a "disabled" soul can enlighten a "normal" one… when it is not taken for granted.

Directed by: Jo Kelly
Written by: Jo Kelly

World Premiere: January 2012
Original Version: English, colour, Digi Beta, 21 min.

Production: Dschoint Ventschr Filmproduktion AG, Leal/Kelly, Leal/Kelly
Producer: Carlos Leal, Jo Kelly, Shari Yantra Marcacci, James Vincent

Cinematography: Alexa Ihrt
Editing: Matthew Symes
Location Sound Mix: Craig Woods
Sound Editing: Peter Staubli
Sound Design: Peter Staubli
Rerecording Sound Mix: Peter Staubli
Music: Mark Tschanz
Art Direction: Mia Hardwick
Special Effects: Raffael Dickreuter
Lighting: Gustavo Oliva, Simon Steuri
Costumes: Anette Czagany
Casting: Jo Kelly

Aubagne, Festival International du film d'Aubagne, Mention Fiction 2013