Havarie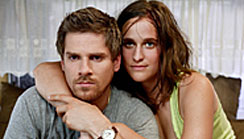 Fiction, 90 min.
by Xavier Koller
Switzerland, January 2006
Jens Lienhart is an ambitious business student at St.Gallen university, researching his thesis at Refine Trading, an international oil trading company. Then Beatrice, a Greenpax environmental activist confronts Jens with information that his research only confirms: Refine Trading charters cheap oil transport tankers only fit for the scrap heap which repeatedly have oil spill accidents. Will Jens submit to Greenpax' pressure to go public? However, there is a problem: Jens' father is not only on the company board, but about to be elected for parliament.

Directed by: Xavier Koller
Written by: Jürg Brändli

World Premiere: January 2006
Original Version: Swiss-German (english subtitles), colour, Digi Beta, 90 min.

Production: C-Films AG, Schweizer Radio und Fernsehen
Producer: Peter Reichenbach

Cinematography: Felix von Muralt
Editing: Gion-Reto Killias
Sound: Patrick Becker
Music: Balz Bachmann, Peter Bräker
Art Direction: Gerald Damovsky
Lighting: Salvatore Piazzitta
Costumes: Claudia Flütsch
Casting: Ruth Hirschfeld