Little Eden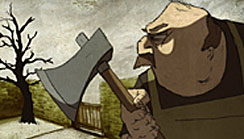 Animation, 6 min.
by Nino Christen
Switzerland, July 2009
The tragic fate of a hobby gardener who, in his seemingly well-ordered life, loses control over himself and ultimately his life because of an unwanted guest.

Directed by: Nino Christen
Written by: Nino Christen

World Premiere: July 2009
Original Version: Without dialogue, colour, Digi Beta, 6 min.

Production: Hochschule Luzern
Producer: Otto Alder, Jochen Ehmann, Gerd Gockell, Jürgen Haas
Executive Producer: Gerd Gockell

Cinematography: Nino Christen
Editing: Nino Christen
Location Sound Mix: Philipp Sellier
Sound Editing: Philipp Sellier
Sound Design: Nino Christen
Rerecording Sound Mix: Philipp Sellier
Music: Pierre Funck
Animation: Nino Christen, Milan Hofstetter
3D Animation: Nino Christen
Compositing: Nino Christen
Characters by: Nino Christen
Art Direction: Nino Christen
Techniques: Drawn animation, 2D/3D Computer animation