Notre musique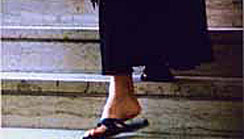 Fiction, 80 min.
Coproduction
Title E:
Our music
Title F:
Notre musique
Title G:
Notre musique
by Jean-Luc Godard
Switzerland / France, May 2004
Three parts, the names of which are written on a black background and entitled: The first kingdom – hell. The second kingdom – purgatory. The third kingdom – heaven.

Directed by: Jean-Luc Godard
Written by: Jean-Luc Godard

World Premiere: May 2004
Original Version: French (english subtitles), colour, 35mm, 80 min.

Production: Vega Film AG, Avventura Films SA, Périphéria, RTS Radio Télévision Suisse
Producer: Ruth Waldburger
Executive Producer: Ruth Waldburger

Cinematography: Julien Hirsch
Editing: Jean-Luc Godard
Sound: François Musy
Art Direction: Anne-Marie Miéville
Lighting: Izet Kutlovac

Solothurn, Bundesamt für Kultur, Swiss Film Prize, Best Fiction Film 2005 (Nomination)
San Sebastian, Festival internacional de Cine, FIPRESCI Grand Prix 2004