Vol spécial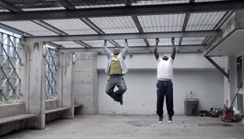 Documentary, 103 min.
by Fernand Melgar
Switzerland, August 2011
In Switzerland, more than 200'000 illegal immigrants live in fear: at any moment they risk being arrested without committing any crime. They can be tied up, handcuffed, gagged and returned to their native land by force on a special rendition flight. These people have a built a new life and started a family, yet Swiss officials can expel them from the country overnight. Why? Because they do not have any means of identification. Thousands of men and women find themselves in one of the 33 administrative detention centres in the country and could be incarcerated for up to 24 months. The filmmaker has chosen to immerse himself in the Frambois prison in Geneva, capital of human rights.
New York NY, The National Academy of Television Arts & Sciences, Emmy Award 2014 (Nomination)
Bujumbura, Festival international du cinéma et de l'audiovisuel du Buruni, Grand Prix du meilleur documentaire 2013
Lampedusa, LampedusaInFestival, Grand Prix 2013
Zaragoza, Muestra de Cine y Derechos Humanos, Premio Público 2013
Berlin, Prix Europa, Grand Prix IRIS 2012
Durham, Full Frame Documentary Film Festival, Center for Documentary Studies Filmmaker Award 2012
Durham, Full Frame Documentary Film Festival, Anne Dellinger Grand Jury Award 2012
El Menzah 5 Tunis, Fesitval international du film des droits de l'homme Tunis, Grand prix meilleur long métrage 2012
Gilching, Fünf Seen Filmfestival, Horizonte Filmpreis 2012
Liège, Festival International du film policier de Liège, Prix du meilleur documentaire 2012
Linz, Crossing Europe - Filmfestival Linz, FEDEORA Award für Dokumentarfilme 2012
Luzern, Bundesamt für Kultur, Swiss Film Award «Quartz», Best Documentary Film 2012
Paris, Festival International du Film des Droits de l'Homme de Paris, Prix du Jury Lycéens et Apprentis de Paris pour les Droits de l'Homme 2012
Poindimié, Festival International du Cinéma des Peuples «ânûû-rû âboro», Prix spécial du Jury 2012
Prague, One World Human Rights Film Festival, The Best Film Award 2012
Roma, Prix Italia, Prix Italia - Documentari d'attualità 2012
San Sebastian, San Sebastian Human Rights Film Festival, Grand Prix AMNESTY INTERNATIONAL 2012
Solothurn, Solothurner Filmtage, Prix de Soleure 2012
Washington, Silverdocs Documentary Festival AFI/Discovery Channel, Special World Feature Jury Mention 2012
Wien, This Human World Int. Filmfestival der Menschenrechte, One World Filmclubs Award 2012
Bruxelles, Festival des Libertés, Mention spéciale Fédération internationale des droits de l'homme 2011
Bruxelles, Festival des Libertés, Mention spéciale du Jury 2011
Locarno, Locarno Festival, Prix du Jury Oecuménique 2011
Locarno, Locarno Festival, Premier Prix du Jury des Jeunes 2011
Moncton, Festival international du cinéma francophone en Acadie, Grand Prix du meilleur documentaire 2011
Warsaw, Watch Docs Human Rights International Film Festival, Grand Prix 2011