Ya Sharr Mout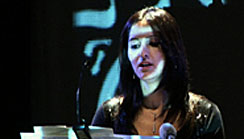 Documentary, 67 min.
by Sabine Gisiger
Switzerland, September 2008
The venturesome story of a Lebanese-Swiss music project in search of nuances during a time of general cultural dispute between the Orient and Occident. The film also tells the moving account of the man who initiated the project: Mahmoud Turkmani, who grew up in Halba in the north of Lebanon, studied music in the Soviet Union, and now lives in the canton of Bern. Mahmoud Turkmani works together with the Bernese video artist Michael Spahr and classical musicians from Egypt and Lebanon, alluding to the musical, political and religious dogmas in the Arab world – with sounds and calligraphic images of poignant beauty.

Montréal, Festival International du Film sur l'Art (FIFA), Prix du meilleur portrait 2010