Hylas und die Nymphen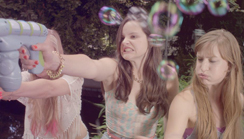 Fiction, 12 min.
Title E:
Hylas And The Nymphs
Title F:
Hylas et les nymphes
by Lisa Brühlmann
Switzerland, March 2013
Dans l'étang aux nénuphars du parc de la ville, flotte le cadavre d'un jeune homme. Trois jeunes suspectes sont rapidement arrêtées et interrogées: les nymphes de notre génération. Elles sont vulgaires, hypocrites et innocentes. Et elles aiment ça: Lolita goes Anarchy.

Directed by: Lisa Brühlmann
Written by: Lisa Brühlmann

World Premiere: March 2013
Original Version: German (french/english subtitles), colour, DCP, 12 min.

Production: Zürcher Hochschule der Künste ZHdK

Cinematography: Benjamin Dobó
Editing: Yasmin Joerg
Location Sound Mix: Patrick Storck
Sound Editing: Gregg Skerman, Hans Kaufmann