Circuit marine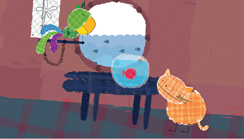 Animation, 8 min.
by Isabelle Favez
France / Canada, 2003
A cat, a pirate, a goldfish and some hungry sailors – they all have a part to play in the circle of life.

Directed by: Isabelle Favez
Written by: Isabelle Favez

World Premiere: 2003
Original Version: Without dialogue, colour, 35mm, 8 min.

Production: Folimage, National Film Board of Canada (NFB)

Editing: Hervé Guichard
Sound: Jean-Claude Millet, Loïc Burkhardt
Music: Eric Houdart, Kriss Koyazounda
Animation: Isabelle Favez

Sacile, Filmfestival Ambiente-Incontri, Best Animated Film, Swiss Film Prize 2005 (Nomination)
Solothurn, Bundesamt für Kultur, Swiss Film Prize, Best Animated Film 2005 (Nomination)
Berlin, Kplus und 14plus, Lobende Erwähnung der Jury 2004 (Appreciation)
Tallinn, Animation Film Festival Animated Dreams, Best Story 2004